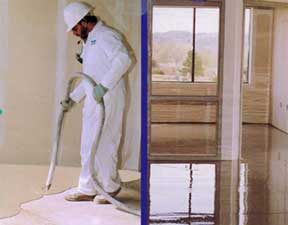 When looking for an economical alternate to self leveling underlayments, Acoustical Floors of Wisconsin offers two unique solutions .

1) Dura-Cap - with strenghts up to 3000 PSI is the perfect finish for old uneven concrete floors.Dura-Cap Turns floor challenges into floor success. With Dura-Cap on your job, you get superior stength, a smooth surface and fast, clean installation by expert applicators. Dura-Cap delivers dependable value - project after project.

2) Commercial Topping - the ultimate strength Gypsum underlayment has compressive strengths from 4000psi (27.4 MPa), it's the ideal underlayment to meet ASTM F 710, Preparing Concrete to Receive Resilent Flooring.


---



Click on a logo above
for more information