Ahead To

Project
Spotlight




Back to

Home Page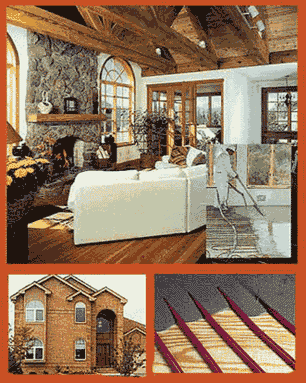 For pure comfort and effciency, nothing maximizied radiant
floor heating like Therma-Floor. It's the specially formulated
underlayment that...

(click the above Therma-Floor logo additional information)
Pours 1-1/4" to 1-1/2" thick over any brand of hydronic tube or electric heating cable.
Accommodates an entire home or individual rooms.
At 1-1/4", weighs less 12 lbs/sq. foot, the same as a typical grout bed.
Provides a smooth, tough surface for easy installation of any floor covering.

Therma-Floors delivers luxurious comfort and effeciency as it...
Enhances heating system responsiveness due to its thin thermal mass.
Provides quieter living because of the mass it adds to the floor/ceiling system.
Creates a safer home - Therma-Floor is tested and UL listed for fire resistance.

Stiffens the floor, reducing floor bounce.
Provides smooth transitions between coverings of different heigths, eliminating toe-stubbing, uneven floors.
Ph. (262) 367- 3306

Fax: (262) 367- 6578

Toll Free: (800) 828-1050






Radiant floor heating systems aren't complete without Therma-Floor!



Therma-Floor is a gypsum underlayment designed by Maxxon® Corporation specifically for radiant floor heating systems. Poured over hot water tubes or electric heating cables, it's the ideal thermal mass for any radiant floor system.

Some radiant systems install under plywood subfloors. But plywood is nearly 4 times more insulative than Therma-Floor, resulting in lost heat. Therma-Floor does its work above the subfloor, for greater efficiency and consistent comfort.





Get the FREE Radiant Heat Installation Comparison. a fact-based guide to delivering maximum value and efficiency, by calling:


1-800-828-1050
or
click here
to download copy.